The Andover Guide is mailed to every Andover household and contains a handy business directory & town information. Copies of The Andover Guide are available in the lobby of the Andover Town Hall and the Main Street Visitors Center throughout the year.  You can also view a copy online, see link below.
Thank You for your feedback regarding our online site and past editions of The Andover Guide.
FIND  A BUSINESS IN OUR ONLINE BUSINESS GUIDE. GO TO BUSINESS GUIDE SECTION IN TOP HEADER
BUSINESS OWNERS WOULD YOU LIKE LOCAL RESIDENTS TO FIND YOUR BUSINESS IN OUR ONLINE BUSINESS GUIDE?
---
Local Community Organizations: Please contact us if you would like your community event posted in our  online community calendar .
---
See link below to view The Andover Guide 2017 edition. Pages 22-38 contain the Business Guide Section.
---
---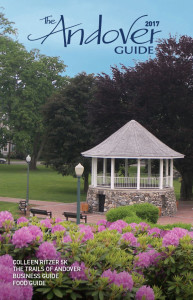 ---
Richard Strong Publisher
The Andover Guide
www.TheAndoverGuide.com