2016 FEATURE STORY BY TOM DRAHEIM
THE ANDONA ORGANIZATION HELPING THE ANDOVER COMMUNITY FOR 60 YEARS.   SEE PAGES 16 & 17 IN THE 2016 EDITION OR YOU CAN VIEW ONLINE (SEE LINK BELOW)
---
LOCATE A BUSINESS IN OUR ONLINE BUSINESS GUIDE OR THE BUSINESS GUIDE SECTION OF THE 2016 EDITION
---
Business Owners: HOW DO ANDOVER RESIDENTS FIND YOUR BUSINESS ONLNE? If you missed the deadline for our 2016 edition, contact us to reserve your Business Listing in our online Business Guide . See our advertising section for more details.
---
Andover Residents: The Andover Guide is mailed to all Andover households and contains a handy business directory and town information. Copies of The Andover Guide are available in the lobby of the Andover Town Hall and the Main Street Visitors Center throughout the year. Thank you for your feedback regarding our online site and past editions of The Andover Guide.
---
Local Community Organizations: Please contact us if you would like your community event posted in our  online community calendar .
---
See link below to view The Andover Guide 2016 edition. Pages 22-38 contain the Business Guide Listings.
---
---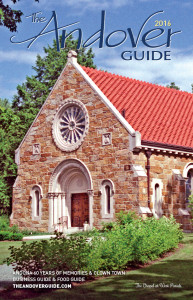 ---